Next Level
Ireland Golf Vacations | Northern Ireland Golf
St Andrews Golf Travel is delighted to offer a selection of golf experiences throughout Ireland and Northern Ireland. From Old Head in the South, Ballybunion on the west, Royal County Down in the East and Royal Portrush in the North, the variety of Ireland Golf courses is incredible.
All our luxury experiences in Ireland are fully escorted by an expert, local driver. This along with our 24/7 concierge service will ensure that all your caddie requests, dinner reservations, whisky tastings, golf course photography, and golf club shipping are taken care of as required. Basically we will take care of everything for you ensuring you have the most memorable time on the Emerald isle as possible!
We look forward to arranging a fantastic Irish Golfing experience for you and your friends
St Andrews Golf Travel | Golf Adventures
Next Level
SOUTH WEST IRELAND
The South West of Ireland is home to some of the most famous links courses in the world. Waterville, Ballybunion, Old Head, Doonbeg, Lahinch, Dooks amongst others are all located in this stunning part of the country. Ireland is famous for its ancient history, castles, stunning mountain views but also for its golf and hospitality or 'craic'! Whisky tastings, sightseeing, local tours; we can build a south west Ireland Golf Vacation to your exact requirements
Next Level
DUBLIN AND THE EAST COAST
Dublin Ireland remains an ever popular destination for Ireland Golf Vacations — Dublin golf tour vacation packages give golfers the opportunity to experience some of the best links courses in the country along with the renowned Irish hospitality in Dublin city after your golf! Golf tour packages to Dublin include some of Ireland's best links courses including County Louth Golf Club, Portmarnock Links, Royal Dublin Golf Club and The Island, all famous Irish venues. Dublin golf vacations include give you the opportunity to expeience the huge dunes at The Island which bring a slice of Waterville to the Dublin area! More modern golf courses such as The European Club and the Links Portmarnock supplement the more traditional links in the area. In addition, Dublin Ireland golf tour packages offer more than just these traditional links courses. The Dublin area of Ireland features some of the finest parkland courses that the country has to offer, such as The K Club (Ryder Cup venue 2006). The K Club is just one of many parkland courses to play on your Dublin Ireland golf vacation package. All of these golf courses can be experienced on your Dublin Ireland golf vacation package with no need to change hotels during your visit. This means you check in just one time and check out one time and fully enjoy the Dublin hospitality throughout your vacation!
Next Level
NORTHERN IRELAND
Northern Ireland Golf Packages offer some of the greatest experiences throughout Great Britain and Ireland. With Royal Portrush hosting The Open Championship in 2019, exposure to the world's golfing community has greatly increased demand Northern Ireland Golf Vacations. Previously in the shadow of their Irish neighbours, the real reason so many people want to take a Northern Ireland golf tour vacation is simply down to the stunning nature of its links courses! Northern Ireland's Royal County Down is the centerpiece, 2015 Irish Open host and among the handful of most elite golf courses in the entire world. Royal County Down in Northern Ireland is now ranked as the world's leading course according to Golf Digest and along with thus Royal Portrush Golf Club is also a must play on any Northern Ireland golf trip. Royal Portrush Golf Club hosted Northern Ireland's only Open Championship back in 1951 and then again in July 2019. As great as Royal Portrush and Royal County Down are, Northern Ireland Golf Packages offer even more on your golf trip. There's Portstewart a sort drive from Portrush which offers some of the most spectacular dunes on any links course in Ireland. In addition, Castlerock is located just a few miles further along the Northern Ireland coast from Portstewart and Northern Ireland golf tour packages also offer great "hidden gems" at Ballycastle and Ardglass.
Next Level
NORTH WEST IRELAND
Northwest Ireland Golf Package Vacations offer something a little more remote! Golf Tour Packages to North and west Ireland provide golfers with the opportunity to experience traditiona links courses which most golfers may have only heard passing mentions. These courses are often in remote Irish communities meaning you might often find yourself the only visiting group on the course that day.  Carne Golf Links is a classic example. Located on the far west coast you feel like you are almost in touching distance of the United States! When visiting this part of Ireland another must play links is Enniscrone. Here you will experience some of Northwest Ireland's tallest dunes. County Sligo Golf Club at Rosses Point is just a short drive along the coast and would be another recommended stop on your Ireland Golf Package vacation. County Sligo is a stunning links and would likey be more famous had it not been located on such a remote part of Ireland. No Northwest Ireland golf vacation package would be complete if your tour did not visit Donegal. Donegal offers a spectacular scenic coast, an incredible welcome, and its glorious and uncrowded links golf courses. In this part of your golf trip you can visit one of the best 9-hole links in the world at Cruit Island. Further along the coast you will also find yourself at Ballyliffin; another classic and increasing famous links.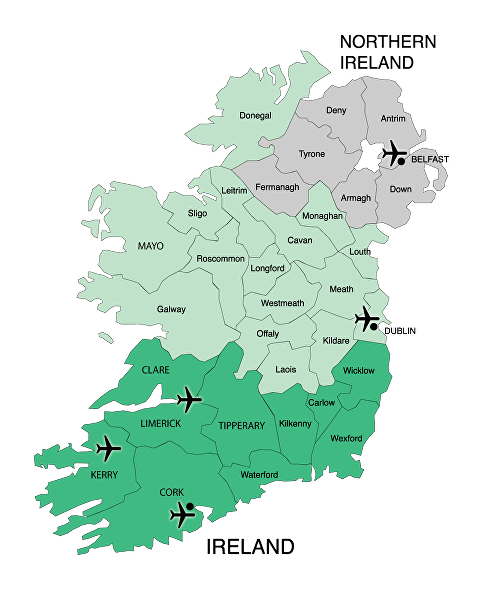 Ireland Golf