English Links Golf Experiences
England Golf Vacations | England Golf Breaks
St Andrews Golf Travel is delighted to offer a selection of golf experiences throughout England. Home to four Open Championship Courses; Royal Birkdale, Royal St George's, Royal Lytham and 2023 venue Royal Liverpool, the variety of courses is incredible. 
All our luxury experiences in England are fully escorted by an expert, local driver. This along with our 24/7 concierge service will ensure that all your caddie requests, dinner reservations, whisky tastings, golf course photography, and golf club shipping are taken care of as required. Basically we will take care of everything for you ensuring you have the most memorable time in England as possible!
We look forward to arranging a fantastic English Golfing experience for you and your friends.
St Andrews Golf Travel | Golf Adventures
Royal Birkdale | Royal Liverpool | Royal Lytham
NORTH WEST ENGLAND - England's Golf Coast
England's Golf Coast is home to 14 of the finest golf courses in Britain. With no less than 7 courses in the 'Top 100 Courses of the UK & Ireland' and 10 listed in the 'Top 100 Courses in England', the concentration of championship golf available within England's Golf Coast is unparalleled. The 3 Open Championship venues of Royal Birkdale, Royal Liverpool and Royal Lytham & St. Annes have hosted The Open an impressive 33 times between them since 1897. The Open was most recently held on England's Golf Coast by Royal Liverpool in 2023
Sunningdale | Walton Heath | The Berkshire
LONDON GOLF
The demand for first-class golf in the most populated part of the country is massive, as such, some of the best courses in the UK can be found right on London's doorstep. There are a host of stunning woodland layouts within easy reach of the capital, including the famous Sunningdale, one of best 36-hole layouts in the world, and Walton Heath, the host of the 2018 British Masters, one of the European Tour's most prestigious events. In addition, there is The Berkshire Golf Club, founded in 1928 and Camberley Heath which is a true classic set amongst the pine trees and heather of the Surrey countryside
Devon | Cornwall | Dorset
SOUTH WEST ENGLAND
The South West comprises of some of England's most natural and picturesque coastlines, delightfully charming villages and rustic rural areas. Boasting beautiful counties such as Cornwall, Devon and Dorset you can expect the United Kingdom's most authentic golf courses, utilizing the rugged landscape to full effect. With purpose built resorts and untouched coastal golf courses, the South West has the most diverse range of golf in England, making the region an well-appointed option for your golf vacation in England
Royal St George's | Princes | Royal Cinque Ports
SOUTH EAST ENGLAND (KENT)
One of the most visited Tours in the England, Kent is a place filled with championship links courses in the South East of England. You will certainly have your game tested along the east coast of the county which also offers spectacular views over the White Cliffs of Dover & English Channel.
The famous courses of Royal St George's, the number 1 course in England, alongside other's such as Prince's and Royal Cinque Ports need little introduction, however there are also a number of other hidden games that add to the Kent Coast being renowned as one of the best regions for golf in England
Royal St George's played host to the 149th Open Championship in July 2021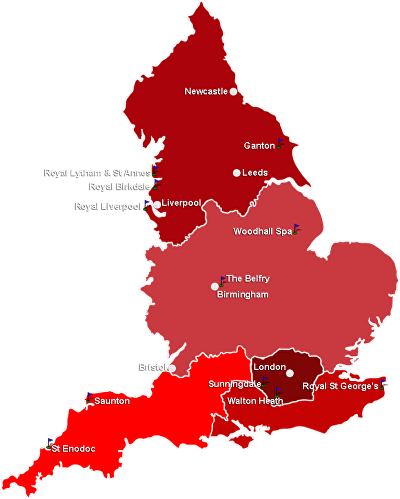 England Golf