5 Star Leading Hotel of the World
THE GLENEAGLES HOTEL
The Gleneagles Hotel, just one hour's drive from St Andrews, is one of Scotland's most luxurious 5 star resorts and a member of The Leading Hotels of the World. When Gleneagles opened in 1924 it was described as 'a Riviera in the Highlands' – today it remains dedicated to excellence, just as it was in its earliest days. Offering guests an unrivalled choice of sports and leisure facilities, Gleneagles is truly a world class resort.
Golf: Its three 18-hole championship courses have attracted some of the most famous golfers in the world, with the King's Course being the former venue for the Scottish Open, and the The PGA Centenary course being the venue of the Ryder Cup in 2014. But sporting opportunities at Gleneagles extend far beyond golf.
Shooting School: Now the busiest of its kind in the world, is based on a sporting layout, meaning that the paths of the clays simulate the flights of game birds.
The Gleneagles Equestrian School: Provides coaching for hotel guests and members, as well as running a variety of equestrian events. Indoor Tennis: Launched in 2015, 4 indoor courts with professional coaching available.
Other leisure activities include: all weather tennis, swimming, croquet, cycling, Off-road Driving, the opportunity for guests to fly Harris hawks at the Falconry School or learn how to handle gundogs in the field at The Gundog School, the first of its kind anywhere in the world.
The Spa at Gleneagles by ESPA is a sanctuary within the hotel. Spacious, calming areas allow you to relax before and after treatments. Altogether Gleneagles is hard to beat and St Andrews Golf Travel is delighted to have the hotel as a partner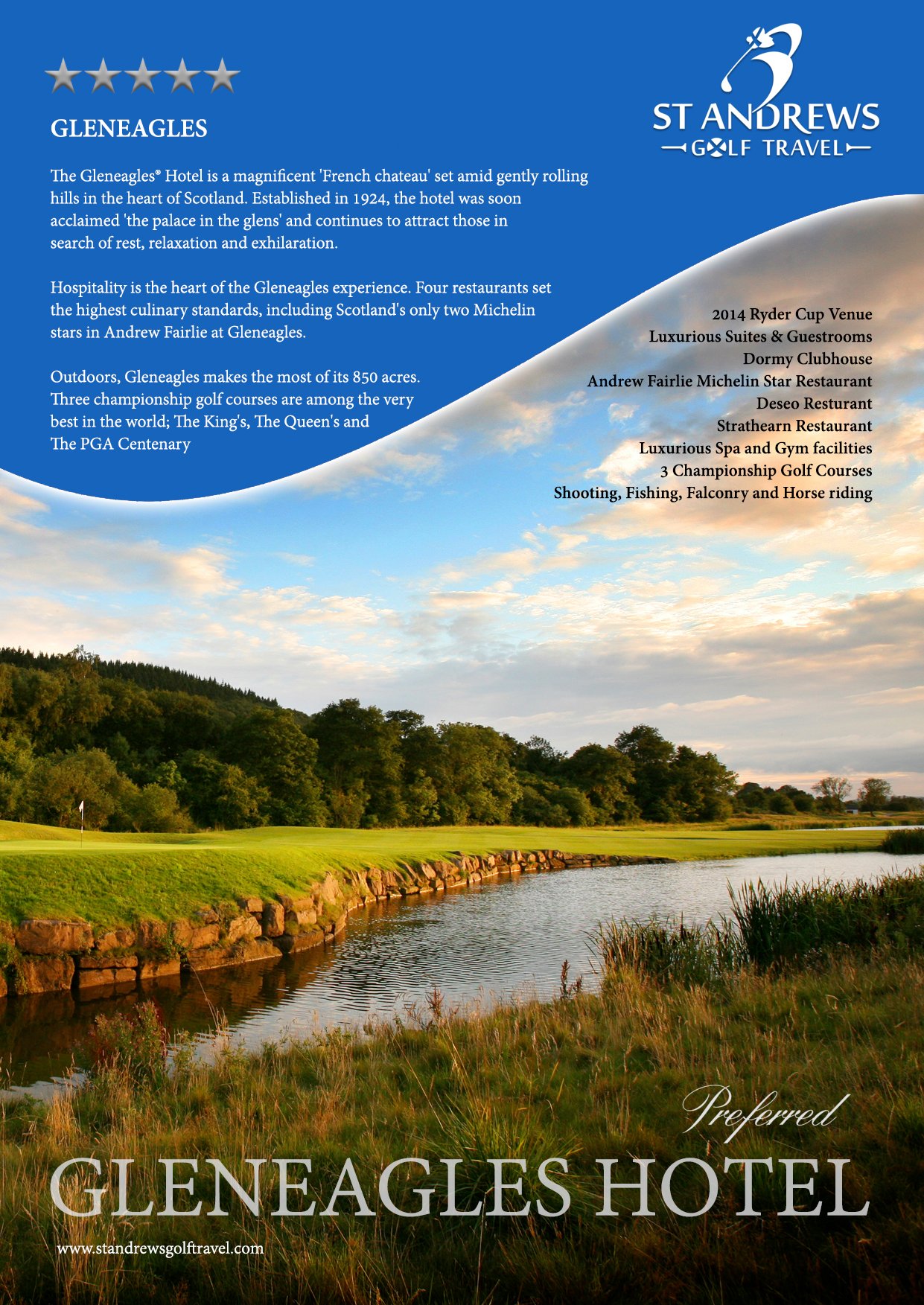 Gleneagles